As some of you may already be aware, the Pub Guide has relocated to the jewel in the crown of The World Famous County of Essex (copyright:
Essex FM
), Chelmsford.
Top showbiz journalist, Nick Wallis, was in town for the
V Festival
, so we decided to explore the pubs of Old Chelmsford, south of The Parkway. A stroll through Central Park landed us at the
Queens Head
.
This is a former Chelmsford Pub of the Year, on Lower Anchor Street and close to the Cricket Ground, owned by
Crouch Vale Brewery
, so my hopes were high. And I wasn't disappointed - it's a drinkers pub, with several real ales including Beer of the Year: Brewers Gold (and I mistakenly ordered Brewers Gold EXTRA, at 5.2%!). It shouldn't really work, as it has what could be a nasty modern extension on the back, but somehow it all comes together in a fine local. I liked it - and brought TCMJ back here (as a special birthday treat!) a couple of days later.
The Queens Head, Chelmsford, yesterday
Walking along Lower Anchor Street, Nick and I chose not to try the Orange Tree, and headed instead for the CAMRA recommended Cricketers on Moulsham Street. Now, it's an OK pub with some nice beers. But at 10pm on a Friday night, the only women in there were the bar staff. I also thought two pints of beer were £5.50, when it was actually only £4.50, and thereby marked myself to the locals as a London Arse - I only just managed to stop myself saying "Really? That's cheap!" which probably would have got me a (deserved) kicking. We drunk up and moved on again to try to find somewhere more lively.
Perhaps it was the V Festival, or summer holidays, or both, but town was comparatively quiet too. Even
Dukes Nightclub
was lacking the usual crowd outside. However as we walked back past what's probably my closest pub, The Ship on Broomfield Road, we noticed there were still bouncers outside, and after some teasing about having asked whether they were open, we were inside a good, lively local pub, still going strong after 11pm. We were particularly impressed that the landlord wouldn't let us have the pints of
St Austell Tribute
that he'd poured, as he didn't think they were up to standard.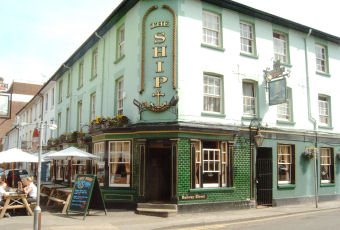 Picture from
Beerintheevening.com
So my new local had saved the day. With all this and the
Only Fine Beer
shop opposite, what more could anyone ask from a new home?
Plenty more pubs to try too... as soon as we find time!